HDFC BANK – (Housing Development Finance Corporation Bank)
HDFC Bank is a banking and financial service in India. The Bank headquartered in Mumbai, it is a largest private sector bank and also the highest market capitalization as of 2016. The bank provides the HDFC Online Banking services to forget cash and go with digital India. Customer can do Online transactions from home, office and anywhere.
HDFC Bank Internet Banking:
The Bank comes with hdfc netbanking through this we can do unlimited transactions by using its networking channel. Check the account holding balance, deposit the amount from any bank, mobile and DTH recharges and also you can download payslips of your bank account. 200+ transactions are available in internet banking.
Register for HDFC Internet Banking as follows:
ATM
Branch
Those who having the HDFC Bank account can apply for the hdfcinternetbanking service for free and enjoy the HDFC e-Banking services in online. Bank provides you the credentials through that you can register and do HDFC Internet banking Login with customer ID/USER ID and IPIN Provided by Bank.
Click here to visit for Register to HDFC NetBanking by generating a One Time password ( OTP).
To get the step by step process of netbanking hdfc, visit: hdfc bank netbanking
Features of HDFC Net Banking:
Image Source: i0.wp.com
The following are the HDFC online banking services, through this you can do your transactions at your place online with provided internet connection no need to go bank.
Check your account balances
Update PAN Details online
Recharge your Mobile & DTH Services
Stop Payment of a Cheque / Hot list your cards
Request a Chequbook / Demand Draft
Purchase Gift Cards online
Pay our Tax bills
Book Fixed / Recurring Deposits
Pay Utility Bills
Check Credit Card details and pay HDFC Credit Card Bills
Request for Debit Card PIN Re-generation
Third Party Transferring Registeration
Check Tax Credit Statement
Invest in Mutual Funds
Book IRCTC Tickets through online.
Funds Transfer between accounts within HDFC Bank and other Bank Accounts
Apply for IPO Online
Check Loan details and Pay
HDFC Phone Banking Service: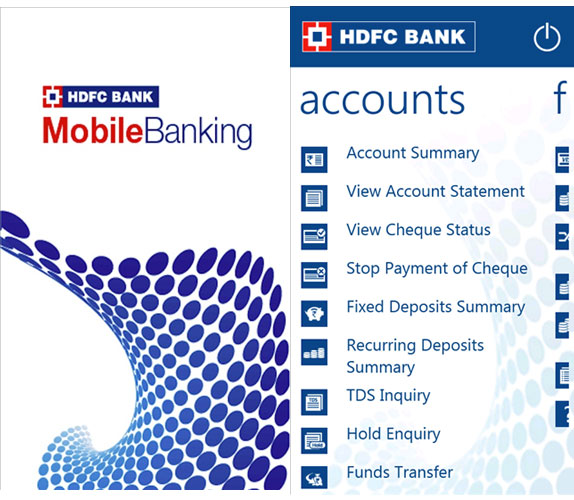 Image Source: images.fonearena.com
To access your account, credit cards, loans and all services from your home, office and anywhere with HDFC Phone banking. It is the most easiest and convenient way to do transactions and also available in multiple languages. Through the IVR service all transactions can be done on HDFC Mobile Banking.
Call PhoneBanking and enjoy the banking services, to find the phone banking number in your city, visit: https://www.hdfcbank.com/personal/find-your-nearest/find-phone-banking
Through PayzApp also we can transaction for free. But it allows limited transactions per day in a month.
---
HDFC NetBanking Login: https://netbanking.hdfcbank.com/netbanking
HDFC Bank Credit Card Login: https://netbanking.hdfcbank.com/netbanking/CCLogin.html
HDFC NRI Banking: https://www.hdfcbank.com/nri_banking/home.htm
HDFC Bank Customer care: https://www.hdfcbank.com/personal/customer-centre
HDFC Bank Careers and Recruitment: https://www.hdfcbank.com/aboutus/careers/default.htm