NRE & NRO Accounts:
A non Resident Indian facing a problem to maintain a Rupee account in India. Through NRO account and NRE Account, an NRI can open a bank account in India with those options. To get to know the difference between these accounts and how to choose the suitable account as follows: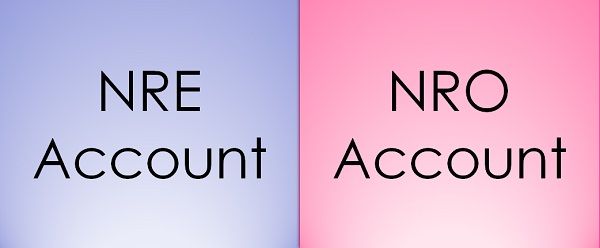 Image Source: keydifferences.com
In India, an NRI is facing the problems with rupee account holding. NRI's prefers to open that account because he wants to save the overseas earned money and send it back to India. NRI has also 2 types of accounts.
Non-Resident Rupee: The Accounts is used by an NRI to deposit the funds
from abroad states with foreign currency. The account holder can send money for free and the NRE
account helps to convert an amount from foreign currency to Indian currency.
Non-Resident Ordinary Rupee: This account is used to deposit funds with Indian financial businesses. The NRO account is in Indian Rupee currency and it will not convert into Foreign Currency and we can's deposit or transfer money to foreign countries.
NRO and NRE Account Similarities:
The NRO and NRE accounts, both are Indian rupee accounts. In those two accounts, we need to maintain Balance Rs.75,000/- on Monthly.
NRE Savings & Current Accounts
NRO Savings & Current Accounts
Both the accounts having these to options to deposit the money from foreign countries.
NRE Account and NRO Account Differences:
Repatriation:
The NRE Account is repatriable for free. We can send money and bring back to foreign countries. but the Reserve bank of India made a restriction to the NRO account. For every financial year, you can remit 1 Million dollars.
Taxation Laws:
NRE Accounts are Tax-free in India. it means no
income tax, wealth tax, and gift tax. By using this NRE account, the interest also exempted from tax-free. But NRO account is a Taxable and the tax is applicable on income tax, wealth tax, gift tax on NRO Account.
Depositing of Rupee funds in India:
Image Source: 365psd.com
The NRI is getting income from foreign countries. an NRI/PCI/OCI is only allowed to deposit in NRO account but depositing of that earning not allowed in Non-Resident Rupee account.
Joint Holding:
The account of NRE can be openly held with only NRI's and the account of NRO can be held with Resident Indian & NRI. The resident Indian should be a close relative to the NRI person from as per the section of company Act 1956.
Depending on you and your family need to Choose and examine the right account suits you. If you want to save the Money in Indian rupee then NRE is the Better option. If you have more interest on India based earnings in rupee then go for the NRO account.