Royal Enfield
Royal Enfield was the brand name of The Enfield Cycle Company Ltd. from Redditch, Worcestershire. They Manufacture the engines, motorcycles, lawnmowers, and bicycles. Royal Enfield started their first motorcycles in the year of 1901 in India. The company is responsible for designing and production of Royal Enfield Bullet. Get to Know the precaution while driving the RE Bike. In Few times, the Riders can do these 4 Types of mistakes of Royal Enfield Bikers.
In the following list you can find the Royal Enfield Bike Models:
Recently, the RE Company launched there new Model Royal Enfield Pegasus Classic bike to the market.
1. Royal Enfield Bullet 350cc:
Royal Enfield Bullet Colors:
Black

Royal Enfield Bullet 350 Road Price: 1.13 Lakhs onwards
Royal Enfield Bullet 500 Road Price: 1.69 Lakhs onwards
| | |
| --- | --- |
| Engine Type | Dimensions & Weight |
| Bike Engine Cc  – 346.0 cc | Kerb Weight – 183 kg |
| No. Of Cylinder – 1 | Length – 2140 mm |
| Max Power – 19.8 bhp at 5250 rpm | Width – 810 mm |
| Max Torqueb – 28 Nm at 4000 rpm | Height – 1120 mm |
| Valves Per Cylinder – 2 | Wheel base – 1370 mm |
| Fuel Delivery – 29 mm, Vacuum Carburetor | Ground Clearance – 135 mm |
| System Air – Cooled | Seat Height – 800 mm |
| Bike Starting as – Kick Start | |
| Suspension and Chassis | Wheel and Tyre's sizes |
| Bike Chassis Type – Single down tube | Wheel Size – 19 inches |
| Suspension Telescopic on front, 35 mm Forks, 130 mm Travel | Wheel Type – Spoke Wheels |
| Twin Shock Absorbers of Rear Suspension Adjustable Pre load with 5 steps, 80 mm Travel | Front Tyre – 3.25 X 19 |
| | Rear Tyre – 3.25 X 19 |
| Fuel Consumption process | Braking system |
| Fuel Tank Capacity – 13.5 L | Front Brake Type – Drum |
| Reserve Fuel Capacity – 2.5 L | Rear Brake Type – Drum |
| Mileage – 45 Kmpl | Front Disc/Drum Size – 178 mm |
| Overall Riding Range – 607.5 km | Rear Disc / Drum Size-  153 mm |
| Transmission Type | Electricals Used |
| No. Of Gears – 5 | Battery 12 volt, 5 Ah |
| Clutch Wet, Multi plate | Head light 12 V, HS1- 35 / 35 W, HALOGEN |
| | Tail Light 12 V, P 21 / 5 |
2. Royal Enfield Classic 350 cc:
Royal Enfield Classic Bike Colors:

Black, Gunmetal Grey, Lagoon, Redditch Red, Redditch Blue, Silver, Chestnut
Royal Enfield Classic 350 Road Price: 1.35 Lakhs onwards
Royal Enfield Classic 500 Road Price: 1.70 Lakhs onwards
Engine

Dimension and Weight

Engine Cc – 346.0 cc

Kerb Weight – 192 kg

No Of Cylinder – 1

Length – 2160 mm

Max Power – 19.8 bhp at 5250 rpm

Width – 790 mm

Max Torque –  28 Nm at 4000 rpm

Height – 1090 mm

Valves Per Cylinder – 2

Wheelbase – 1370 mm

Fuel Delivery – 29 mm,  Vacuum Carburettor

Ground Clearance – 135 mm

Cooling System Air Cooled

Seat Height – 800 mm

Starting Mechanism Self and Kick Start

Suspension and Chassis

Wheel and Tyres

Bike Chassis Type – Single down tube,  stressed engine

Wheel Size – 19 inches

Suspension Telescopic on front

, 35 mm forks, 130 mm travel

Wheel Type Spoke Wheels

Twin Shock Absorbers of Suspension Adjustable Pre – load with 5 steps, 80 mm Travel

Front Tyre – 90 / 90 – 19

Rear Tyre – 110 / 90 – 18

Fuel Consumption

Braking

Fuel Tank Capacity – 13.5 L

Front Brake Type – Disc

Reserve Fuel Capacity – 2.5 L

Rear Brake Type – Drum

Mileage – 45 Kmpl

Front Disc/Drum Size – 280 mm

Overall Riding Range – 607.5 km

Rear Disc/Drum Size – 153 mm

Electricals

Transmission

Battery – 12 Volt, 8 Ah

No. Of Gears – 5

Headlight – 12 V, H 4 – 60 / 55W (Halogen)

Clutch Wet – Multi-plate

Tail Light – 12V, P 21 / 5 W
3. Royal Enfield Thunderbird 350:
Thunderbird Bike Colors:
Marine, Asphalt, Stone, Flicker, Lightning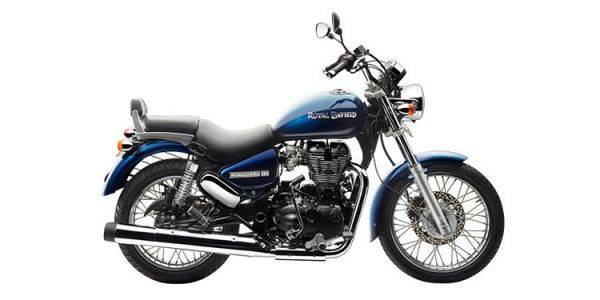 Royal Enfield Thunderbird350 Road Price: 1.45 Lakh onwards
Royal Enfield Thunderbird 500 Road Price: 2.03 Lakh onwards
| | |
| --- | --- |
| Engine Type | Dimension & Weight |
| Engine Cc –  346.0 cc | Kerb Weight – 195 kg |
| No Of Cylinder –  1 | Length –  2060 mm |
| Max Power –  19.8 bhp @ 5250 rpm | Width –  790 mm |
| Max Torque –  28 Nm @ 4000 rpm | Height –  1205 mm |
| Valves Per Cylinder –  2 | Wheelbase –  1350 mm |
| Fuel Delivery –  29mm, Vacuum Carburettor | Ground Clearance –  135 mm |
| Cooling System –  Air Cooled | Seat Height –  775 mm |
| Starting Mechanism –  Self / Kick Start | |
|  Suspension and Chassis |  Wheel and Tyres |
| Bike Chassis Type – Single down tube, stressed engine | Wheel Size  –  19 inches |
| Suspension Telescopic on front, 41 mm forks, 130 mm travel | Wheel Type –  Spoke Wheels |
| Twin Shock Absorbers of Rear Suspension Adjustable Pre load with 5 steps , 80 mm Travel | Front Tyre –  90 / 90 – 19, 52 P |
| | Rear Tyre –  120 / 80 -18, 62 P |
| Fuel Consumption | Braking |
| Fuel Tank Capacity –  20 L | Front Brake Type –  Disc Brake |
| Reserve Fuel Capacity –  3.5 L | Rear Brake Type –  Disc Brake |
| Mileage –  45 Kmpl | Front Disc or Drum Size –  280 mm |
| Overall Riding Range –  900 km | Rear Disc or Drum Size –  240 mm |
| Electricals | Transmission |
| Battery –  12 Volt, 8 Ah | No. Of Gears –  5 |
| Bike Head light Projection type – head lamp, H7 55 & 55 W | Clutch Wet, Multi plate |
| Tail Light –  LED light | |