Annamalai University is located in Annamalai Nagar, Tamil Nadu and it is a state university. It is in 1500 acres and offering higher educational courses like engineering, science, agriculture, humanities, arts and MBA. The Annamalai University was founded in 1929 year by Annamalai Chettiyar. It was the 1st private university in the India and now it is under the control of Tamil Nadu Government.
University provides the 500+ well known courses through the Distance Education. The university main intensity is providing education for those who are unable to attend the campus but who are interest to study. This education system was offered by DDE (Directorate of Distance Education) of Annamalai University.]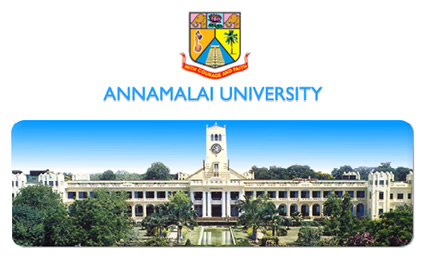 In India, many students are enrolled for the Distance Education and the whole campus is equipped with excellent infrastructure, computer facilities, teaching faculty, great administration and study centers for the students. Annamalai University is the first technological university on offering the post graduate degree through the Distance education in Physics, Botany, Zoology, Chemistry, Psychology and Bioinformatics and MBA courses. The DDE of university also offering the programmes in Textile Design, Hotel and Catering Management, Fashion Designing, Retail management, Interior design, Music, Yoga, Pharmaceutical, Twinning, Taxation, Health Science and many courses are offering through the Distance Education provided by DDE of Annamalai University.
Accrediation
Annamalai University was accredited on 2014 by The National Assessment and Accreditation Council with A Grade.
The NAAC is a autonomous body that accredits and assesses HEIs (Higher Education Institutions) in India. It was head quartered in Bangalore.
Annamalai University Rankings
International Rankings 
2018
Times – World
801 to 1000
2018
Times – Asia
251 to 300
India Rankings by NIRF
2017
NIRF – Overall
92
2017
NIRF – Universities
56
2017
NIRF – Pharmacy
13
Annamalai University Faculties
In the Univerisity has 10 faculties namely dentistry, engineering, agriculture, fine arts, marine sciences and medicine and Indian languages.
Annamalai University Staff Login, 
Annamalai University Student Login,
Annamalai Distance Education
In the Annamalai University Directory of Distance Education (DDE) was initiated in the year of 1979. now, oi offering almost 500 courses through distance education. Distance Educational Council has approved those all programmes. For the B.Ed distance education program is approved by National Council for Teacher Education. The University is very popular in The India.
For every year, the university has presenting 356 scholarships and awards for eligible students.
Annamalai University Campuses
They launched their first overseas study center located in Toronto (Canada) and offering the programs like dance, yoga, tamil and music.
Later they started a study center in Al Mihad Institute located in Dubai.
Dhafir Institute located in Abu Dhabi
Al Hilal Education Center, Sharjah located in United Arab Emirates
Al Noor Education Center located in Muscat, Osman
Annamalai University Examination Branch
To Check the Examination Applications, Hall Tickets and Results,
Controller of Examination: Dr. RM. Chandrasekharan
Joint controller of Examination: Dr. M. Manickam
Deputy controller of Examination: Dr. A. Ganapathi
Deputy controller of Examination: Dr. N. Venkateshan
---
Annamalai University Website Address: http://www.annamalaiuniversity.ac.in
Annamalai University Facebook: https://www.facebook.com/auaicpage
Annamalai University YouTube: https://www.youtube.com/channel/auaic
Annamalai University Contact Number: 04144 238 282
Annamalai University Address
Annamalai University
Annamalai Nagar,
Chidambaram,
Tamil Nadu,
India.
Pincode: 608002