Konda Laxman Bapuji was a freedom fighter in India. He was participated in many revolutions and activist on Telangana state issue. He struggled a lot for the Telangana state and fought his life.
Laxam Bapuji was born on 27 September 1915 in Wankidi village, Adilabad district and Telangana state. He is belongs to the padmashali community.
Laxman Bapuji Career
Bapuji was inspired by Mahatma Gandhi. In 1941 year, he met Gandhi ji and learns more inspirational things from him and in 1942 year joined in a Quit India Movement.
Laxman Bapuji's Politics Life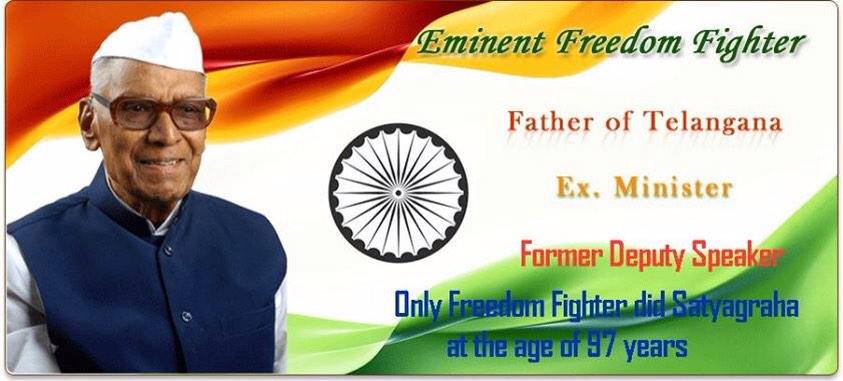 In 1952 year, he elected from the Asifabad constituency as MLA in Adilabad district. After 5 years Asifabad turned as reserved constituency. His community people majorly lived in Nalgonda district, Bapuji shifted there and in 1957 elections, he won from Bhongir constituency. From the year of 1957-1960, laxman bapuji worked as a Deputy speaker. He also continued as a Minister from 1960-1962.
From 1967 to 1969 year he served as minister and MLA in Bhongir constituency for the 2 time term periods. He having the amazing capabilities which having the straight forward nature and party members are planned to give him CM post. Due to the internal politics and caste problems he missed the post. In 1987, he resigned for the congress primary memberhip.
Movement in Telangana
In the year of 1952, he joined in Non mulki agitation. In the Congress government, he was the 1st minister on resigning the post. He resigned because of Telangana cause on 29 March. Later he joined in the Telangna Agitation to give strength for Telangana issue.
In the time of 2008 to 2012, he was prime member of Telangana Sadhana Samithi. He did many movements to get the Telangana statehood and after sacrificing his sole go the separate Telangana state.