If you are a regular user of eBay, you have probably noticed that there are some things you cannot do on the website. There are services or products you aren't able to buy there and the location tools aren't as intuitive.
However, there is an alternative to that called eBay Classifieds, where you will be able to sell and find things you cannot find in other places.
What can I find on eBay Classifieds?
eBay Classifieds gives you the opportunity to find products or services you won't usually find on eBay. You post or search for job listings, certain services and products that aren't usually shippable, like pets or cars.
eBay Classifieds works well with selling or buying in your local community, so you meet the person and see the product personally before buying, or you can hire an specific service from an organization.
What are the features of eBay Classifieds?
The main difference between eBay Classifieds and other places is that there is no bidding or auctions involved. When you place an eBay Classified Ad, the price that you put is the final price. The same if you are buying, the price that you see is what you will have to pay.
eBay Classifieds also has a more intuitive location tool, as it is thought to be used for personal sales. You can select your area, city or state, so you can see how close the person you are going to buy something from is.
As you are selling/buying items personally, you can get payments in cash, for example, or can avoid dealing with payment options like PayPal, which usually take commissions for every transaction.
Products and services are classified by categories and can be also searched by using keywords and selecting your area. Using the site is completely free.
How do I search eBay Classified Ads?
Using eBay Classifieds is very simple. You just have to go to their website and select your location. Then sort out categories or use the search bar, depending on what you are looking for. Once you find the right eBay Classified Ad, contact the seller either by email or phone, depending on the information they have available on their ad, and arrange a meeting to buy the product personally.
How do I place an eBay Classified Ad?
Go to the eBay Classifieds website, select your location and click on "Post a free ad" in the right superior corner of the page. Then, select the category or your product/service and fill the information required.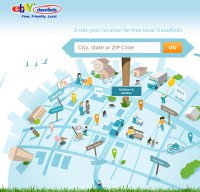 This works the same as any other page, clients will be attracted by well-done ads, so put good photos, a clear description and don't forget the contact information.
Then see the preview of your ad and do the email verification you will receive on your inbox. And you are done!
---
Classifieds Website: https://pages.ebay.in
ebay facebook: https://www.facebook.com/ebay
Twitter: https://twitter.com/eBay
ebay Toll Free Number: 1-800-3000-8282