Introduction
White pages are the body that authorizes people to search and it was established in 1997 in the USA. It includes comprehensive contacts over 500 million people including mobile phones coupled with the most effective background check database that is amassed in all the 50 states.
White pages provide responses for just over 2 million searches that are carried out every day. White pages also power other high ranked people contact databases such as 411 and Switchboard. In addition to that other companies use Whitepages to prevent sham transaction in order to provide a great online experience.
411, on the other hand, uses the White pages platform coupled with the yellow page directories to run its search engines, information, and background.
This in contrast to other 411 information based services charge for directory services. The key differences between the two directories based and people based search platforms is the number of users involved on a regular basis and certain services offered. They are going to be described in detail below.
Reverse Telephone Directories
A reverse telephone directory or popularly referred to as grey pages directory or reverse phone lookup is a database of telephone or mobile numbers coupled with the customer details.
Nonetheless, unlike a simple telephone directory where users have the freedom to search for a customer telephone number by using their details such as name an address, a reverse phone lookup enables a user to search for a customer's details by first using their telephone number.
This service is commonly used by law enforcement agencies to track down suspects or by emergency services to pinpoint the location of a request of a person in need. Both white pages and 411 use this feature to provide its users to locate owners of names and addresses as well as identify a spam caller.
But white pages offers quite the package when it comes to this feature as it enables users to dig deeper and allow them to access information that would be handy such as background checks, financial history and issues and the always hard to find, public records. You can now Reverse Lookup any USA phone number by using these sites.
Search of Persons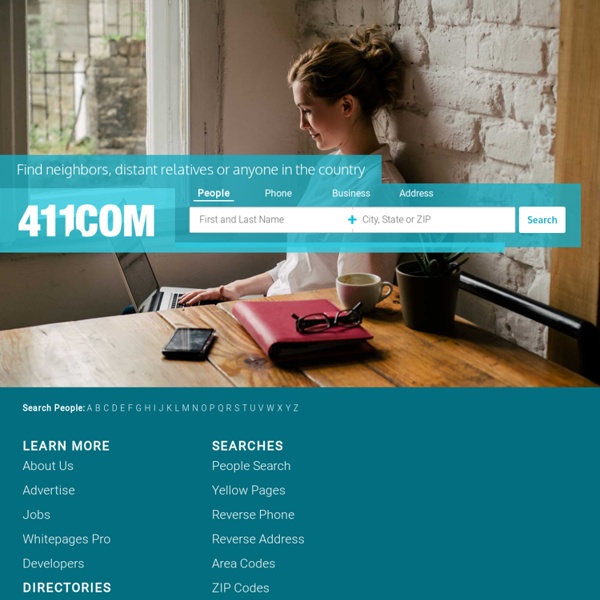 Whether an individual is in business or not, people always try reconnecting with their old friends from years back maybe in high school or college. White pages and 411 help a person do just that. It enables users to look for a person's Phone number Search for free.
This helps a business verify an address before shipping or sending goods or a package to a particular address. This assists corporations and businesses to avoid a lot of packages sent to spam addresses and fraudulent ones as well. White pages more business oriented and aim to provide search services to organizations at a fee of course. However, 411 user-friendly and some services limited to business and consumer use.
Background search and checks
As the name suggests, it is kind of check that involves knowing all information relating to an individual in certain fields.
White pages background checks involve criminal records, property records, family members, financial transaction records and all related contact information that relates to an individual.
Criminal records enable a business entity to know and the individual's running in with the law. Helps evaluate if an individual might be a felon or has a history with a crime before it could proceed with doing business with the individual.
Financial transactions and history also help a business with key information about an individual's financial past. For instance, it could be hard dealing with somebody who has a bad history of gambling and debts. As a normal business would wave a red flag of a huge risk related with that particular individual.
Property records also help business evaluate the assets the individual has in order to help with transactions such as securing a loan and other related business dealings. Background checks important and these services offered by both the white pages platform and the 411 platforms. At the time of this article writing, both search platforms offered the service at fairly same charges.
To get the info on 411Canada.ca: Click Here
Reverse Address Search
This i a free service that offered on the white pages platform to both individuals and businesses. This where consumers use the address of a person in order to find the information and contact details, like the name and telephone number, of the particular individual.
This service highly appreciated because it allows users to work backwards with the kind of information have and in this case the address. Both platforms offer this service at no extra cost.
Conclusion
White pages developed in the early days of the internet are really a great and useful tool. It is useful in both the hands of business, government, hospital and other related industry institutions. As the old saying goes, knowledge is power. Information on the white pages is essential in helping those stakeholders obtain the needed information before proceeding to take the next course of action.
Although 411 is a search engine based on the white pages platform, it provides contact information as well. Whether it is getting an old friend contact performing. A background check before entering into business with a person, white pages with the help of the internet is a great tool to have in one's locker.
---
White Pages Website: www.whitepages.com
Pages Contact Number: (206) 973-5100
White Pages Address: Seattle, Washington, USA
411.com Website: www.411.com
State info Contact Number: 1-866-693-6748
411.com Local info Contact Number: 850-488-1234
---
White Pages Facebook: https://www.facebook.com/Whitepagesinc
Pages Twitter: https://twitter.com/whitepages